Clayton Solar & Electrical Pty Ltd
Contact Clayton Solar & Electrical
Adelaide's Solar specialists – we can help you reduce your electricity bill
Adelaide's Solar Specialists
Clayton Solar and Electrical are electricians who specialise in solar installations.  With over nine years' experience installing solar and with over 1,000 installs, we are the team to see for good honest advice, quality service and prices you can afford.
Electrical services we offer
Repairs and/or replacement
Making solar easy and affordable
Adelaide has an abundance of sunshine, yet we have the world's highest power prices, so now is a great time to invest in solar and to start saving money on your energy bills.   However, trying to understand what you need and how to go about choosing the right system for you and your family can often be confusing, time-consuming and stressful.  This is where Clayton Solar and Electrical can step in to help.
We make installing and understanding solar easy.  Our friendly team are easy to talk to, informative and are happy to help you make that important decision in choosing the right solar system for your home or business.  We will walk you through the whole process from choosing the right size system to selecting the best panels and inverter to suit your budget.  You'll get a customised solution and a detailed panel layout so you can see how the system will look before it's installed.  We can even show you how much power your new solar array system will be expected to generate.
We always try to work within your budget, but we will never compromise on quality, so you can be assured that even our lower priced systems offer a quality long term solution to saving money on your power bills.
Quality solar systems in and around Adelaide
Clayton Solar and Electrical are a local business who have been installing quality solar systems on homes and businesses throughout the Adelaide metropolitan area for the last nine years.  We pride ourselves on offering quality products that are built to last, coupled with up-to-date service and advice.  The products we use have been tried and tested in the harsh Australian climate, which is why we can offer extensive guarantees on your solar array system.  And because we're local, if a problem does arise you can just pick up the phone, and we'll be there when you need us.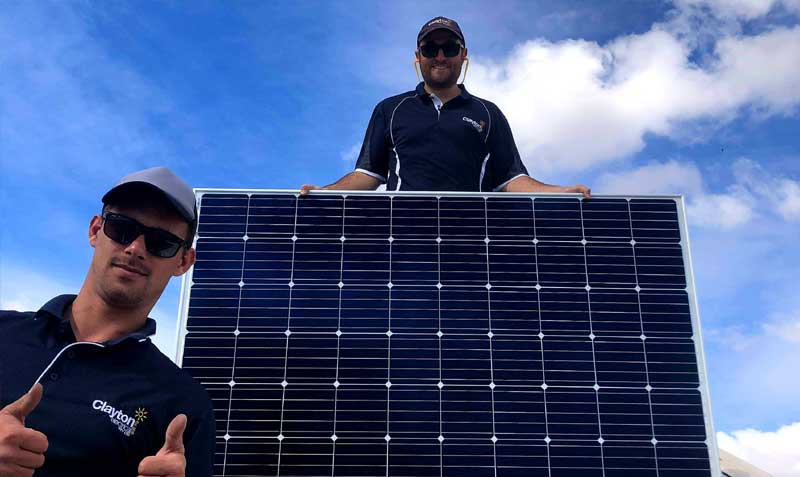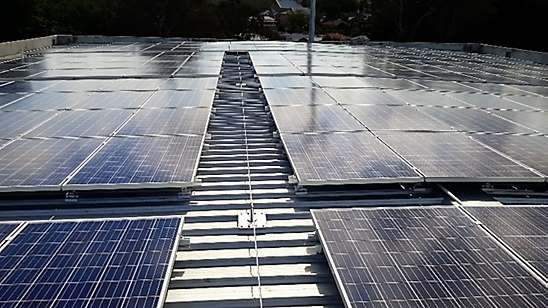 Excellent customer and after sales service
Our commitment to our customers continues long after your system has been installed.  All the inverters we use come with Wi-fi which we will set up for you.  With Wi-fi, you can not only monitor your system online or through an App yourself, but we can track it too, allowing us to address any issues as they arise.  There's nothing more frustrating than getting a large electricity bill to alert you of a system fault that could have been picked up and solved months before if only someone had noticed that the fault light was glowing on the inverter.
Here's what our customers have to say….
Cassie
The team at Clayton Solar and Electrical were so wonderful to deal with from start to finish. Every step in the process was done so in a professional and friendly manner with everything explained clearly. The install was done with minimal fuss. The team were lovely and kept us in loop during the day as to how they were progressing. We were so impressed with the final product and our first bill is already in credit!
Helen
From the first contact, Clayton Electrical inspired trust and confidence. Shane Ford was readily available on the phone and happy to answer questions. The quote came promptly, and I was very happy with the price and products detailed. Installation was done efficiently, and I am happy with the result.
I unreservedly recommend Clayton.
Pete
Clayton Solar and Electrical came recommended by a family member and friends who had used them. They did not disappoint. From the first phone call everything was easy. The whole process was fast, friendly and reliable with absolutely no stress at all. Can highly recommend Shane and his team.
Leigh
It was and is a great experience in dealing with Clayton. Everything was smooth, everything happened when and how it was promised, and they really wanted the experience to be positive for us.
Couldn't recommend them more highly!
Belinda
I can't say enough to praise Shane and the team – from first contact to install to follow up question's months later their service, knowledge and willingness to help and educate far exceeded expectations! The system is fantastic, first bill has dropped by close to $1000 in the middle of winter! (Not to mention only having it installed halfway through the billing period!) Shane was amazing right from the start, not at all pushy, happy to answer my many questions and back up each and every recommendation he made. Down to earth, friendly and the ability to explain everything in simple terms. Install boys Tim Patty and Victor were on time, efficient and friendly – left everything clean and tidy on finishing and worked through cold wet weather to complete on time and have it up and running as soon as they could. Out of three quotes from highly recommended businesses I am so glad I picked Shane and his team-best price, best service and best decision! In an age where service standards are constantly disappointing, these guys remain solid tradies with an old school commitment to customer service!
Find out more ...
Want to find out more or chat about solar systems?  Call Stavros direct on 0466 066 562 or ask for a quote